Even though I was an English major in college, and I have focused on writing for a large part of my life, I still overlook some errors in my writing.
Some grammar rules have changed over time, and it can be challenging to relearn what was ingrained in your brain when you were younger.
Because you can make mistakes so easily, and it is more difficult to notice them in your writing than in the work of others, it's important to carefully proofread your writing with an editor and/or a software program that catches your errors.
The truth is, everybody makes mistakes in their writing. Even if you feel like you have the basics down, advanced grammar and style nuances may overwhelm you at times, even if you write professionally.
I have been using Grammarly which is an online grammar and spelling assistant, and I want to share the pros and cons of the software with you.
In this Grammarly review, I will give you enough information for you to decide if this is the right app for you.
Grammarly Review: What is Grammarly and How Does it Work?
This app makes suggestions for your spelling, grammar, and writing style as you are typing. This feature is excellent for people who write quickly like I do because it will highlight words and mistakes as you go and offer alternative suggestions. It can certainly help make your writing better as you go.
Grammarly works by checking your writing against its vast database of grammar errors. It uses anonymously collected data from its users to familiarize itself with any current trends in people's writing.
This means that the program is continually improving by getting more data from its users and watching trends change. This is helpful when you are trying to keep your writing up to date.
As you are writing, Grammarly underlines any spelling or grammar mistakes in red, and it will show any style or advanced errors in yellow.
When the user hovers over the words that are picked up by Grammarly, they can fix the error right away by clicking on the alternative suggestion, or they can read a short explanation of why Grammarly believes what was initially written is incorrect.
I have come to appreciate the clarity of the descriptions that Grammarly provides to illustrate the mistakes that it finds. The descriptions provide detail that may give you an insight that you had not thought about and could even teach you something new.
This is much more advanced than what you get from a typical spell check. It can also edit your work for specific types of writing, such as freewriting, academic writing, and writing for business.
Why is Grammarly Useful?
I rely on Grammarly a lot now for my writing. While some may think that Grammarly allows people to be lazy in their writing, hopefully, people can learn from seeing the consistent mistakes that they are making.
It is great for people who are motivated to improve their writing, yet it still works for those who don't know that they need help.
The real value in Grammarly comes from its ability to point out your most common mistakes and encourage you to avoid repeating them in the future.
I find it most helpful to use Grammarly near the end of my writing process to make a final check for errors that I may have missed. When I do this, I can keep a log of my most common mistakes.
I found that some of the best guidance I got was from the advanced checks, which help tighten up your writing, suggest other possibilities for commonly used words, and give a few contextual edits to help make your reading more clear and concise.
There is an additional mode that offers some style and grammar edits depending on which writing category you select. This is helpful because you probably want to use a different tone of writing in a formal business proposal than you would if you were doing some creative writing.
Features
There is a Microsoft Office Add-in for Word and Outlook. This allows the user to view the specific kinds of issues that you want to see in the document that you are working on, such as style errors, contextual spelling, and punctuation.
While this takes some getting used to, it is much more comprehensive than Word's grammar checker. Grammarly opens as a sidebar on your screen and shows errors or suggestions in your document, and you click on the corrections you want to see to get the details.
You can find the icons for the premium functions along the left side of Grammarly's window. Here, you can also locate settings for personalizing your experience.
On the bottom bar, Grammarly gives you some useful information like word count, the number of critical and advanced errors they have found, and a plagiarism percentage calculator. I have found this feature to be a more detailed and helpful than just the error count that Grammarly includes on other platforms.
If you are using Grammarly on the internet, the plug-ins look at everything you write as you are writing it, from your emails to just simple notes.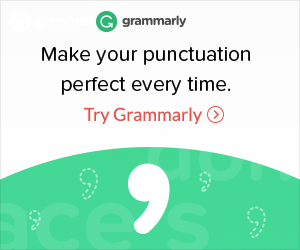 However, Grammarly is unable to tell when you are using vernacular or slang, or if you are intentionally misspelling a word. It doesn't trump a human editor, so you do not always have to take their suggestions if you know they don't make sense in the context of your writing.
Of course, it is your choice if you want to accept the suggested change or not, but if you are not confident in your writing, you could make a change that does not make sense in the context of your writing.
Is Grammarly Worth the Money?
I do think Grammarly is worth the money, especially when compared to some other programs that aim to do the same thing.
With Grammarly, it is simple to fix your spelling errors, grammar mishaps, and other common mistakes like a misused apostrophe or comma splice.
You can get a lot of the benefits from Grammarly for free, but if you want to upgrade to premium, it is just under $30/month. However, if you pay for an entire year, it comes out to be about $11/month.
The reason Grammarly is better than some other programs out there is that it offers more features that can help improve your writing.
While its premium version may seem a bit expensive, it offers the best grammar checking software due to its accuracy and its ability to be easily integrated with Word and text boxes that are online.
Here are some pros and cons about Grammarly:
Pros
The plagiarism checker can find and cite a source for you.
Every app on Grammarly has a useful and functional design.
You can get a lot of benefits without paying anything.
Its minimalistic icons make it user-friendly.
The error count shown at the bottom of your document helps you see how much work you have left to do on any piece of writing.
Cons
Sometimes the real-time edits can be distracting and interrupt your flow of writing.
Grammarly requires you to have an Internet connection to work.
You won't be able to see advanced errors without a premium subscription.
Enabling Grammarly disables the "Ctrl Z" hotkeys and the revision tracking in Word.
It doesn't work with Google Drive on the desktop, which is problematic for people who use Google's app suite to do work. If you do, you have to copy your text into a Word document or import it into the Grammarly app to make corrections.
A Few More Perks
I was impressed when I got an automated email from Grammarly after using it for a few days. "Grammarly Insights" gives some great personalized information on your writing, such as the most common errors that you tend to make.
It also shows you some relevant statistics, like the number of words it checked and the number of unique words you use.
Grammarly Insights also lets you know how much more (or less) productive you have been compared to other users based on how much you have written.
Grammarly is particularly helpful if you have relatively good grammar skills already and can use punctuation correctly. It may not be the best service for people who are trying to learn English for the first time because the corrections may not make too much sense.
It's a great tool to help users locate their technical errors, but don't expect the program to provide significant feedback about the content of your writing.
After trying several online grammar checker programs, I believe that Grammarly is the best one available. When compared to other programs, it's faster and isn't as buggy.
It also catches more errors and provides the user with useful suggestions for fixing them. Grammarly has been rated by users to find 95% of errors, while some other programs are ranked closer to 50%.
Related: The Ultimate Strong Verbs List And Guide To Power Up Your Writing
I like the fact that Grammarly encourages users to be active in their writing process because this could be helpful for people to increase their grammatical knowledge.
The downside here is that it won't act as a perfect quick-fix that some people may be looking for, as taking all of its suggestions without stopping to consider them will not necessarily make an ideal piece of writing.
I hope this Grammarly review has been helpful for you. I have found my writing has improved since I started to use it, and I appreciate when it offers suggestions for words that I would not have otherwise considered. I believe this has made my writing less repetitive and predictable.
Give the free service a try and see what you think, then consider upgrading to premium to get all of the fantastic features that it offers.